Last month the coordinator of the 4DRL, Jitte Waagen, was awarded with a grant from the University of Amsterdam for the development of Augmented Reality in education. As far as we know, this is within humanities at the UvA the first attempt to use this technology in academic teaching programs. That means this project is still very explorative in nature: what works, and what doesn't? We improve by free experimentation, but also by clearly defining aims and setting out a vision for the future. So I asked Jitte to write down his ideas regarding the specific aims of the current project and in general about the future potential of AR in education.
How did the idea for this project rise with you?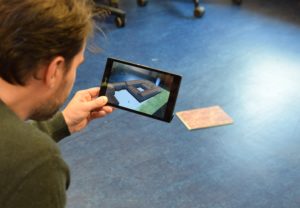 In ACASA, we do city walks with students to introduce them to the archaeology/history of Amsterdam, as well as introduce them to the world of online spatial data; the Through the Looking Glass (TtLG) project. Students are provided with a tablet with old maps and archaeological data that shows them where they are in relation to historical sources. This has so far been based on digital two-dimensional maps; we always wanted to do this in 3D, projecting historical data on the screen of a tablet as 3D reconstructions visible in the Amsterdam streetview. You could show so much more information, i.e. how would the 1481 city walls look projected on the current skyline of Amsterdam. In addition to our own curiosity, in evaluations of the TtLG project students often mentioned they would like to see buildings and objects in 3D during the walk. So it was basically an idea that was waiting for a project. The project in collaboration with the APM flowed naturally from this as well, since the museum is also used for teaching purposes at ACASA.
Continue reading "Augmented Reality in Humanities Education"